Skip to Content
Roller Shades from Our Hunter Douglas Collections
Hunter Douglas has a long history of designing beautiful shading solutions for homes, including their innovative and appealing roller shades. Coastal Shutters and Window Treatments is a proud Professional Certified Hunter Douglas Showcase Dealer because we know the value of their products. Our staff is well-versed in homeowners' window treatment needs in New Smyrna Beach, FL, and roller shades are a popular way to add class and elegance to a room while also ensuring light control and privacy.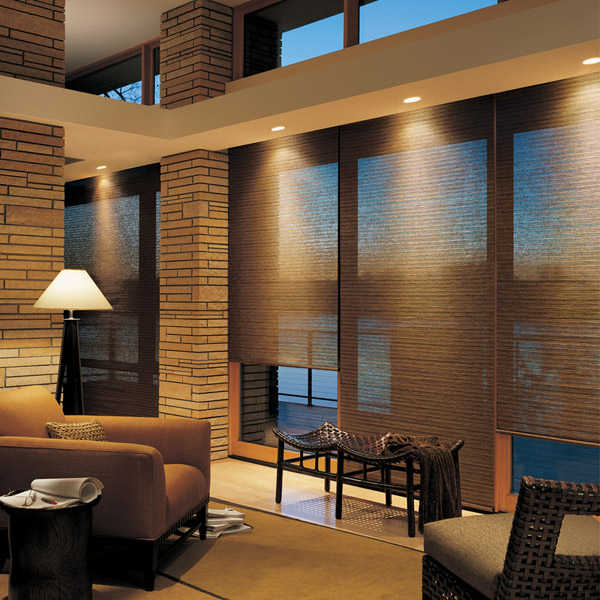 Find the Perfect Shades in Our Inventory
Coastal Shutters and Window Treatments knows how difficult finding the right shades for your home's windows can be, from choosing the material and color to deciding whether to add drapery. We strive to make your choices easier with our selection of outstanding roller shades, made with high-quality materials and appealing designs to provide light control, privacy, and a posh look. Our inventory of roller shades includes the following collections:
Designer Roller Shades
We offer these roller shades for various types of interior designs since they work well as a minimalistic accent or a statement-making feature. You get smooth, silent operation because of the precision engineering, and the minimal light gap in the screen provides extra privacy whenever you pull down the shades.
Designer Banded Shades
If you seek a modern solution to privacy, light control, and view-through shading, Designer Banded Shades may be the right fit for your home. These shades feature an alternating construction of sheer and solid fabric bands to shade your space and give you a view of the outside. It easily transitions from open to closed, giving you as much light or privacy as you desire.
Sonnette™ Shades
Get warm, glowing light with Sonnette™ Shades' cellular material as light is filtered through two separate fabrics. It operates as effortlessly as a traditional roller shade, and the energy-efficient cellular construction traps air in distinct pockets. This unique feature gives your windows an extra layer of insulation.
Patio Shades
Shades for your exterior require special consideration to ensure fashion, function, and longevity. These patio shades use special fabrics and feature superior operation to provide easy use and protection from ultraviolet (UV) light. You can also choose from multiple opacities to control visibility according to the screen fabric weave density.
Coastal Shutters and Window Treatments Values Your Home
Coastal Shutters and Window Treatments has your fashionable shading needs covered with beautiful collections of roller shades for your home's window treatments. With over 15 years of industry experience, we understand our clients' satisfaction is our target, and we use our expertise to help them find the perfect shading solutions.
Schedule Your Consultation